Eco-friendly dwellings and green interiors are quite in fashion these days as the awareness about the natural resources is increasing. You can integrate natural material around your residence to make a green life and cherish the natural treasures for healthy living. Wood has been used in building edifices in many ways since old times, these days usage of wooden material is increasing extensively to make functional as well as decorative adoptions in interior designs. Conventionally, complete wooden walls were created as part of the imperative construction. But nowadays, wooden wall coverings are in fashion to accommodate the need to bring nature inside your house and keeping the usage of wood to a limit for avoiding damage to the landscape.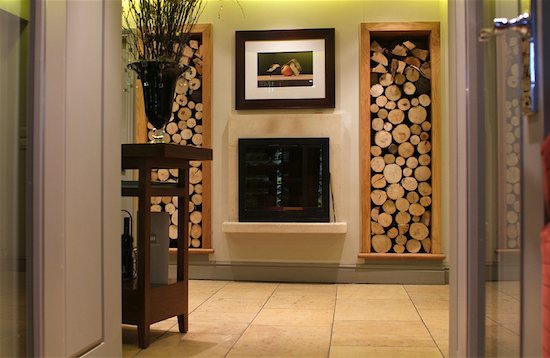 Skit wood wall
Want to make an illusionary effect on the front wall of your lounge or bedroom? Try the technique of skitwood wall covering in vintage to polished surfaces to make remarkable designs on the wall. Thin strips of solid wood can be trimmed in diverse shapes to cater specified requirements of your interior layouts. Dull, rustic and sandy texture of wood strips will provide you organic and vintage milieu whereas glossy, polishes and characterized designs of wood can fill the room with a powerful persona.
Pixel wooden wall
Interior designers have spent extensive skills in making artistic designs by utilizing natural, wasted and used wooden materials. Pixels of wooden pieces can form amusing patterns and layouts to turn a plain wall into a fine piece of art. Small wooden sticks sliced horizontally in small portions are ideal to form the asynchronous flow on the whole wall by pinned closely in mat natural finish. The hard work and extensive skill will form a dramatic effect with casual and natural elements.
Woodland Mosaic
Many people want more sophisticated and finely crafted wooden work in their dwellings. For those fellows, a mosaic made out of wooden blocks is an ideal design to follow for wall coverage. Solid wooden blocks shaped in a tilted pattern are used to create the mosaic art for modern interiors. Most corporate houses require such finishes to mark their standard and success to the interior designs. It involves extreme hard work and expense to form exquisite style on walls.
Log wall art
Wood logs are a very basic form of wood material to be used as wall coverage solutions. These can be used in dual ways to create a green environment inside the premises of a house, office, shopping store or a restaurant. Thick long logs can facilitate you to mount a proper wall as a hindrance for separating two areas or incorporating privacy into in-doors. On the other hand, these logs can be carved in thin wedges and form a bubble looking pattern by attaching them together to refuge the wall. It will display an amazing view as a plain wall or adorned with canvas prints with multiple photos as wall decorations. From professional to domestic interiors, this themed wall can be a perfect addition to promote a green lifestyle
Woody rulers
Trendy people make the trendy living to express their concept of life and own personal interests. In wooden wall shields, you can try out a variety of designs, textures, finishes, and patterns. Sleek glossy finish or rustic natural worn out wood, carved chunks of timber in dark mat shine or pealed planks in handmade wooden sheets, you can try as many styles as you want. One of such design can be wooden rulers with amusing quotes and expressions to elevate the artistic side of the interior theme.
Planks
Thick un-processed planks are a wired but very natural way of incorporating the wood material into contemporary interiors of some official building to leisure cafes and restaurants. Wavy and uneven planks are quite interesting to be adopted as pillars, holders and wall coverage. Try out the dull and soaked planks sliced proficiently to mark your walls in natural yet chic style.