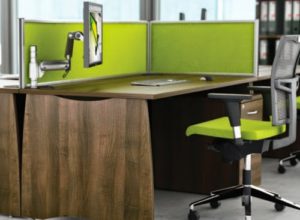 Considering all the latest trends and styles in office furniture, renovating with your commercial office with brand new furniture is certainly an overwhelming task. A lot many things and points needs to be taken into account to ensure you choose the most suitable furniture and fixtures for your office space.
According to a study, the right choice of furniture can make big impact on the working atmosphere, staff productivity, and even on staff's health. The furniture can also help your company create a powerful and lasting impression amongst the candidates, employees, investors, clients and partners.
For example, office furniture with basic colours and sleek designs speaks in volume of owner's professionalism. And more contemporary designs will portray creativity of the company.
Undeniably, selection of the right office furniture and interior is a challenging job which can't be overlooked. This post shares some great tips for buyers looking for office furniture.
Define your budget
A great variety of office furniture is available out there. And the price range varies drastically. And thus, it is essential to have a clearly defined budget well before you make purchases.
Examine available space
After budget, space is the biggest concern. Do you have a very large area or very small? The answer to this question is crucial in making the right selection of furniture. For smaller areas, you can look around for sleek designs and multi-functional pieces of furniture. Study the area and pick items (such as chairs, desks, sofas, etc.) such that you can make the most of the available space without compromising on the comfort.
Decide timeframe
If you want to ensure that the installation of your office furniture doesn't cause any big loss on employee productivity and don't stop your business operations for an extensive period, set a timeframe initially. Ask yourself how much time you can afford for this installation work. If you are extremely short on time, it is recommended that you choose furniture that can be installed easily and quickly.
Match it with your industry
 What industry you are in? if you are a magazine company, it's wise to have modern-style office furniture. And if you are a finance or consulting company, you better go with traditional furniture pieces. In short, your office furniture and office interiors must reflect what business you are in.
Focus on office chairs
Your employees are going to seat on the office chairs for many hours every day. If the chairs are not offering proper support, it will cause discomfort to them and will ultimately reduce their productivity. So, make sure you choose chairs that provide great support their backs and arms.
Choose the best lights
Like chairs, lighting is another crucial factor that relates to the productivity of your staff. Professional interior design consultants can help you choose the right lighting that is polite on eyes and looks visually appealing.
Take opinion
Don't hesitate in asking your employees for their opinion, as they are the people who spend more than eight hours in the office every day. You can also take advice of your business partner and friends of course.
Hope this bog will help you select the best furniture for your office!
Joseph Hinds works as a manager in a company specialising in a wide range of Office furniture in Birmingham. In his 10 years of career, the author has worked with hundreds of clients for office fit outs and furniture.