The kitchen industry is shifting away from classic shades of white and boring wooden cabinetry. The latest trends are all about brass accessories, natural materials, monochrome minimalism, open cabinets, and vintage accents. Homeowners don't have to break a bank to make their kitchens look cool. This 2014, designers are also focusing on sustainability. Ecological materials, home-grown plants, and energy efficient lightening are elements that will make your kitchen seem modern, chic, but also environmentally-friendly. Here are 10 wonderful trends of kitchen furniture for this year.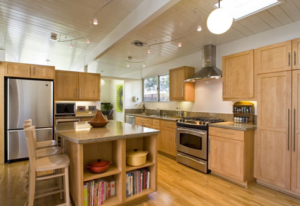 1. Warm metal tones
This 2014 we're shifting from traditional metal accents (stainless steel) to warmer tones like copper and brass. Iron influences are making a comeback. Specialists claims that copper kitchen appliances and hoods, as well as bold brass will be in trend this year. When used in combination with the right materials and colors, warmer metal tones can add opulence and minimalism to your kitchen. You can paint your cabinets in gray for example, and keep your appliances in plain sight for a full contemporary effect.
2. Natural materials for kitchen walls
Natural materials such as raw wood, wrought iron and brick have always played an important role in interior design. As for your kitchen, brick veneer will add a rustic appeal to your space. It will give it a nature feel, and in combination with some additional vintage-like decor items, you can transform your space into a cottage-like cooking area. What's great about brick is that you don't need to paint it, ever. It has to be kept in its natural tone to add that traditional vibe to your kitchen.
3. Customized drawers
Drawers and kitchen cabinets now hide custom features. In areas where you anticipate to find wavering doors meant to open up and reveal storage space inserts, there will be pullout doors connected to shelves where you can place pots and pans, garbage bins, recycling holders, and racks for dry and canned goods. Drawer inserts are now used to hold silverware, dishes, and cutlery. Homeowners should turn their attention to inserts because they're customizable and they can easily keep a kitchen clutter-free.
4. Built-in kitchen appliances
Today's modern appliances are resourceful, intelligent and energy-efficient; however, the goal is not to pack your kitchen with the biggest oven or the most imposing dishwashing machine. Built-in kitchen appliances are in trend. The simplest way of concealing chunky appliances is to hire a manufacturer that can create a cohesive environment in your kitchen. He should be able to hide appliances behind matching cabinet doors, and thus let the rest of the decor shine through.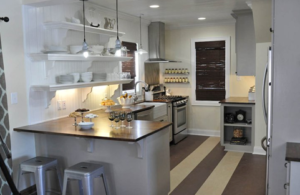 5. Open cabinets
Closed cabinets are outdated. They make kitchens seem cluttered and way too restrained. Open cabinets on the other hand, are a cheap way of widening a small cooking space. If you can't afford to redecorate, repainting cabinets and removing the doors to reveal beautiful items inside is a convenient way of adding a bit of color to your kitchen. Stick to glasses of the same color and material, or plates in the same size and shape though. It's important to keep things organized.
6. Monochrome accents
Monochrome basic accents in a kitchen are defined by 3 main words: sleekness, simplicity, and style. This trend has always been en vogue, however not every homeowners has an eye for interior design. Monochrome kitchens have a tendency to seem cold and uninviting. The secret to making your space seem more appealing is to add natural accessories and pops of colors. You can include wood accessories, some potted plants, solid marble slabs, glass stripers or any type of solid wall covering.
7. Baby blue furniture
Blue is this year's main color in kitchen design. It can be used for the walls and floor, but it can also be implemented in the furniture. Use it for the cabinets and counters, and combine the shades to make your space stand out. An original way of using blue in the kitchen is to paint just one furniture item. Keep your kitchen all white, but paint the island in baby blue. The wow effect is guaranteed.
8. Open shelves
Shelves are extremely useful in a kitchen. Place them above the sink and reveal your beautiful pots and pans to the world. Let everyone see your utensils. Hiding kitchen items behind cabinet doors is no longer a smart way of decorating. People want to show off their fancy kitchen things, so rather than hiding them it's better to leave them in plain sight for guests to admire. Buy quality sets of plates, glass and bowls to create harmony, and stay away from too much color. If your cabinets are blue, invest in blue kitchenware just to maintain the same tone.
9. Mismatched cabinets
A kitchen island or a cabinet in a special type of material (wood, metal, etc) or color different from the rest of your kitchen will add originality to your space. Break down the monotony and add some warmth into your all-white kitchen. Or, if there a predominant material you'd like to balance with something else, do it. A dining table made of hardwood works great with plastic chairs painted in a soothing, pastel nuance.
10. Multifunctional kitchen furniture
Not every home has a massive kitchen with lots of space for both cooking and dining; sometimes you just have to work with what you have. Multifunctional kitchen furniture ideas are in trend this year; have your kitchen island custom made, include some drawers, shelves, and additional compartments where you can store appliances and avoid cluttering. For some extra space, you can leave some room under your island to place the chairs and make more space.
Main kitchen design trends for 2014 are all about innovative influences and smart ideas to open up a space and making it seem inviting and colorful. Give your kitchen some character and get rid of everything that seems too old, cold and unappealing. After years of looking at all-white kitchens, it's time to switch things up a bit and include unusual color palettes such as blue, black, and others. Incorporate decorative touches to make your cooking space seem functional, and include non-traditional materials to add some originality.