Bedrooms come in all sizes and shapes. If you have a small bedroom, you might believe that you are limited as to what you are able to do with your bedroom. The truth is that you can still decorate your small bedroom. You just have to be careful about what you do so that you don't make it look smaller than it is. Below are seven useful and simple decorating tips that you can use for a small bedroom.
Create a Space That's Free of Clutter
This advice is something that your mom probably told you when you were young. The thing is that it's still true. One of the best things that you can do is go through your items and see what you can get rid of. This is even more important when you have a small room. You only have so much room in your bedroom, so you want to make sure that you are using it for the items that you actually need.  Not only will this give you more room, but it will make it more appealing.
When it comes to keeping clutter to a minimum, don't forget this also applies to your furniture. Don't overwhelm your dresser or bedside table with a lot of items on top of them. Whether it's books or décor, you want to keep things simple.
Keep Your Color Schemes Simple
One of the most essential things when you are decorating a bedroom that's small is visual harmony. This will define the space's form factor and makes the bedroom look and feel a lot bigger. When you use a lot of colors, it will create visual fragmentation, which may diminish your bedroom's look. It's a good idea to remember that more than three colors is going to be too many. Use neutral for its backdrop, and then choose two colors for the accents.
Use those two accent colors in more than one area using fabric additions and subtle décor. This going to create an appealing symmetry as well as enhance the room's aura.
Use Multiple Lighting Layers
One of the most essential things when it comes to a fabulous, stylish and fresh bedroom atmosphere is lighting. Even though a large bedroom might have no trouble with poor lighting, a small bedroom can't.  it's best if you have big windows in the bedroom so that natural light can come in. if this isn't possible, having different types of artificial light will be another great option.
Combine pendant lights, recessed lighting and lovely sconces to create uniform lighting. Since we're talking about decorating a small bedroom, you want to stay away from using table lamps and floor lamps that will take up space.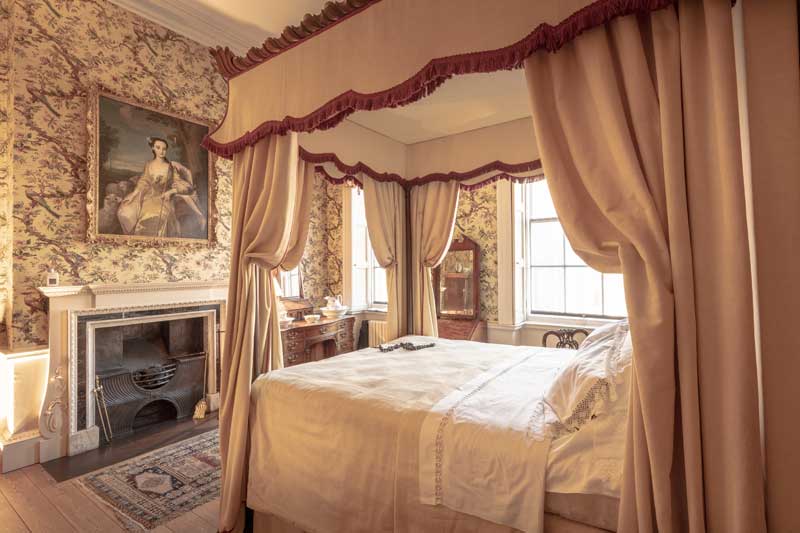 Use Smart Storage Solutions
One of the things that we have discussed in the beginning of the blog is how it's important to keep clutter out of small bedrooms. One of the best ways that you can do this is through adding trendy and stylish storage units. Wall shelving units and a gorgeous wardrobe are a good place to start. Another great option are wicker baskets since they give you storage space as well as adding some textural contrast to the home. The natural soft fibers will immediately make the bedroom a lot more relaxing. Bedroom ottomans, benches and side tables with concealed storage also are perfect options for small bedrooms.
Use Lots of Mirrors
One of the best ways that you can make a small bedroom look bigger is to use mirrors. One of the easiest ways that you can do this is by hanging a mirror on your closet door. You can also use mirrors to decorate your room. A fun way to do this is through making cool arrangements using mirrors that are odd shapes on your walls. You can also hang up a huge mirror on the wall. Below are two tips you can use when decorating with mirrors.
Don't go overboard when using mirrors. When you use a lot of them, it might make you feel as if you're living inside a funhouse.
To make your room brighter, put your mirror across from a window. Not only will this brighten your rom, but it also will make it look like you have many windows.
Proportion & Scale Décor
This is a difficult for a lot of people, since many people decorate in different phases. If your bedroom is small, then you want to use the smaller décor items that are going to fit into the room's scale. Don't combine a bed that's relatively small with a large cabinet or side table because you liked the way they looked when you were at the store. Try to avoid being impulsive when you go to the store next time.
Remember Vertical Space
The space that you can use doesn't just mean your bedroom's square footage. You want to use all of the space that your walls offer carefully. The last thing you want to do is to completely surround yourself with accessories and shelves. This might make a bedroom that's already small seem even more claustrophobic. When you are choosing a storage unit, use shelves that will go to the ceiling. This is going to save on the legroom as well as allow you to stash things that are rarely used on the topmost shelves.
These are seven tips that you want to use specifically when you have a small bedroom. They are going to help your bedroom look bigger and create a space that is welcoming and comfortable. You can also check this website  for interior decorative quilts ideas.