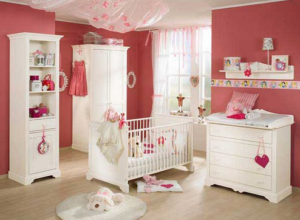 For growing kids, they need to have an independent room. There is wardrobe for them to sort out clothes and store toys. There are desk and bookshelf for placing school supplies. There is a cozy bed to offer them good rest and sleep. Experts believe that a separate space is good for kids to develop an independent personality. In order to creating kids' space, selecting the proper kids' furniture is really important. Do not miss out the following tips of how to choose furniture for your kids' room.
1. When choose furniture for kids, it is best to choose furniture made from eco-friendly material, which will let your kids grow in s healthy and natural environment. Wood furniture is the great selection. Apart from the material, the furniture should also be painted with environmentally friendly paint. It is said that the UV painting process meet the strictest environmentally standards. Even your kids bite the furniture, it will not do any harm to them.
2. The safety of the furniture should also be paid much attention. Kids' furniture should have smooth corners and without any sharp edges to avoid kids' getting hurt.
3. Kids' bed cannot be too soft. In the growth and development, bone, spine did not fully developed in place. If often sleeping on the soft bed, it is likely to cause kids' bone deform.
4. Furniture for kids should be consistent with the principles of ergonomics (low moderate), durable and also easy to clean. The furniture which is easy to broken is inappropriate. Furniture which is lightweight, durable, unbreakable, easy to clean are best selections
5. Kids furniture should not have too bright colors. It is right bright colors will create a colorful and happy world for kids. But if the colors are too bright, it will produce too much stimulation for the eyes and affect the sleep. Apart from that, colors also have big influence on kids' character forming.
6. Children's room furniture not only can meet current needs, but also can meet future needs. Here is a great idea of saving money on kids' furniture: buy strong and practical modular furniture for kids' room. This kind of furniture may be used with the growth of your kids.
7. For furniture appearance, parents can choose some entertaining, lively, or cute, or funny furniture. So that children always remain bright mood when in their room, which can do great help for kids' psychological development. Furniture with ferocious animal patterns are not suitable for kids room.
Hope the upper tip can do you much help of choosing the proper kids' room furniture. For more furniture selecting tips, just visit www.melodyhome.com. On its article and blog pages, you can find many useful and informative tips of furniture tips.