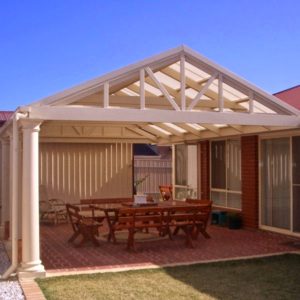 The pergolas are the structures that are usually situated in the backyard of a house which adds a significant value to a house's landscaping. A pergola is a skeleton like structure without any kind of walls or roof. It is made up of only frames and hence it does not offer any kind of protection from rain or wind. Only it can prove to be useful during a sunny day. Despite all these disadvantages, they are still worth building as it provides you with the most wonderful outdoor experience staying at your home without any kind of constraints. The unique and magnificent architecture of a pergola provides you with the most perfect blend of indoor and outdoor atmosphere. While you are building a pergola just check out these exclusive types and designs of pergolas mentioned below.
The Cladded Pergolas
This type of pergola is also called roofed pergola. Unlike the traditional pergola it has a roof attached which allows you to experience a good number of advantages. During the hot summers the roof can protect you from the powerful sun rays. You can even clad the other sides of the pergola in order to provide protection against the strong winds if you are experiencing a windy weather. Apart from all these cladding a pergola helps in noise reduction and temperature regulation. But that entirely depends upon the type of material used during cladding. A perfect cladding allows the pergola to become more versatile in terms of using the available space.
The open-top pergolas
This is the traditional pergola. The roof is open and it can be effectively used to grow vines. If you are growing vines, make sure that they are well nurtured and grown so that they can provide you protection from the unwanted elements. In addition it can add a special appeal and character to your garden. This pergola has been used for centuries and still it is the most widely used pergola.
The Gabled Pergolas
The garbled pergolas are triangular in shape and are placed at the end of a roof. Basically it consists of two halves on a sloped position. It is a light weight pergola that is often used to beautify the houses. But apart from its decorative values it also offers extra amount of protection from the harmful rays of the sun by providing shade in those parts which the roof cannot cover. You can beautify these pergolas by covering them with vines. Such a covering would make you feel that you are enclosed in your own room only, giving a perfect impression of an indoor living room.
The Pitched Pergolas
This type of pergola has a roof that is attached to the house or to the nearby wall or any structure. The roof is designed in such a way so that it slopes downwards towards the other end of the pergola. Here the term pitched means a downward slope. These types of pergolas are like the verandas of your house. So if you plan to construct such kind of pergolas, you might need to obtain permits as now you will be building something that can come under some categories in building codes. Since these pergolas can be attached to the houses easily, they can be treated as an extended room. You can utilize this space very well by transforming the place into a dining or a living room.
Ethen Hunt writes articles on pergolas that can give you all kinds of information related to pergolas. With his informative stuffs you can build your own gable roof pergola and know the exact materials required to build such curved roof structures.