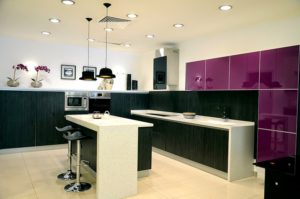 With time, people are getting more and more health conscious due to rapidly changing climatic condition around the world, turning more towards environmental friendly and green products. The hype of eco-protecting goods started not more than five to eight years back which gained prominence all over the world. Many byproducts and major home manufacturing today are made with elements promoting health and safety.
Everyone nowadays is familiar with basic kitchen building materials but the idea to make it ecological friendly might have never crossed your mind. You may not save the world by installing such tools in your home but just the feeling of playing a part in this movement brings eternal peace.
Check out below for some outstanding ideas to build a complete ecological kitchen in a pocket friendly way.
The Finished Touch – Recycled
Using recycled stuff isn't harmful to health if it has gone through the process properly. There're a lot of shops promoting recycled goods like vases, kitchen lighting and fabrics, dishes and complete culinary set, also available at an affordable price. Although such products can be ordered online, it's better to visit a particular shop in person to check the quality while deterring further chance of scam.
Aluminum Countertops are best
Aluminum is considered as the most widely and preferred element used in manufacture of many kitchenwares especially countertops. The combined features of durability and appearance makes it everyone's favorite however there has been a major surge in aluminum price, forcing buyers to opt for a more appropriate alternate product. Probably you don't know that recycled aluminum cost 90% less than branded one while the quality is unbeatable so there's no point thinking when you can avail a premium product at a cheaper price.
Many renowned companies are offering a myriad of colorful aluminum with different sizes for a better fit. When chopping or cutting anything with bare knife over aluminum countertop, do place a wooden board in between as your knife can create scratches, deteriorating the quality.
Fluorescent Lights
When talking about environmental safety goods, the first thing that comes to mind is energy efficient electronic appliances and products with compact fluorescent bulbs taking the lead. These are available in many different types depending on voltage. Such light bulbs are manufactured in a way to provide maximum glow while saving energy and are far more enduring as compared to the latter. Meanwhile, they also generate less heat and can burn for at-least 6,000 hours which is double times more than traditional bulbs.
Go pro Wheat-board Cabinets
A much harder amalgamation of plant fibers like wheat-board makes up the best kitchen cabinets ever. Wheat, cornstalk, hemp, rice hulls, straw and many other organic materials are processed together into a fine wood-like construction material which is used in the manufacture.
Majority of plant fibers comes from ineffectual harvested fiber products hence no harm is done to initial crop. Their appearance might look corky and rough but you can choose from different finishes like veneer, shellac or stain, giving it a pure wooden appearance.
Bamboo Flooring
Most of you'll find this strange but bamboo has a track record of being the sturdiest element used in manufacture of many furniture and kitchen goods as well as for flooring. Having a lifespan of about 30 to 50 years, you can integrate it all over your kitchen flooring at a price comparably low than others. Bamboo has high resistance against moisture and steam hence, it's ideal for almost all kitchens especially areas located on the bank of seashore.